We're Getting Mutants in the MCU - The Loop
Play Sound
"Wish/Starless Night" is an Olivia Lufkin single released under her pseudonym, "Olivia inspi' Reira (Trapnest)." The single was released in two versions, CD and CD&DVD, on October 11, 2006. It is Olivia's most successful single to date, debuting at #7 on the Oricon Weekly Charts and #4 on the Daily Charts. The sales have reached atleast 27,854 copies.
Both of the two title tracks were used for the Nana anime, "Wish" was the second opening and "Starless Night" was the second ending. Another song by Lufkin, "Close Your Eyes" is included on the CD.
Background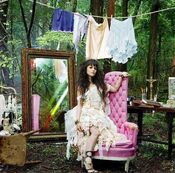 Both "Wish" and "Starless Night" are included on Olivia Inspi' Reira (Trapnest) and Nana Best. Olivia Lufkin's brother, Jeffrey contributed to the song "Close Your Eyes".
The "Wish" music video and an animation clip was added onto the DVD version.
Track listing
| No. | Title | Lyrics | Music | Arrangers | Length |
| --- | --- | --- | --- | --- | --- |
| 1. | "Wish"   | Olivia Lufkin | Olivia Lufkin, Rui | Rui, Kansei |   |
| 2. | "Starless Night"   | Lufkin, Space Critter | Hideyuki Obata | Tomoji Sogawa |   |
| 3. | "Close Your Eyes"   | Lufkin, Space Critter | Lufkin, Jeffrey Lufkin | Jeffrey Lufkin |   |
DVD extras
"Wish" music video
Trapnest original animation clip
Videos
Lyrics
Mabataki ga kaze wo yobu
Hohoemi ga zawameki wo keshisaru
Anata no me ni sumu tenshi ga sasayaku
Subete ga ima hajimaru to

Can you feel it now
Can you feel it now
Nami ni nomikomareta you ni
Pulling on my heart
Pulling on my heart
Iki wo tome te wo nobashite

Baby kono sekai wa
Kinou to wa chigau
Anata no koto shika mienai
Baby my wish on a wing
Kono sora wo saite
Afureru hitotsu no kotoba de

Kagayaki wo tadoru shisen
Mayowazu anata e hashiru no ni
Tachisukumu kokoro tame iki wo tsuku
Marude nagai tabi no you de

Can you feel it now
Can you feel it now
Toki wa mujou ni nagareteku
Pulling on my heart
Pulling on my heart
Kono omoi tokihanashite

Baby mou mirai mo
Yakusoku mo iranai
Anata ga soko ni iru dake de
Baby my wish on a wing
Kono koe wo tobase
Furueru hoshi wo tsuki nukete

Do you feel me?
Do you feel me now?
Do you feel me?
Do you feel me now?
Do you feel me?
Do you feel me?
Do you feel me?

Baby kono sekai wa
Kinou to wa chigau
Anata no koto shika mienai
Baby my wish on a wing
Kono sora wo saite
Afureru hitotsu no kotoba de

Baby mou mirai mo
Yakusoku mo iranai
Anata ga soko ni iru dake de
Baby my wish on a wing
Kono koe wo tobase
Furueru hoshi wo tsuki nukete
I reached into the sky
Omoi wa todokanakute
Chiisaku sora ni kieta
Iro toridori no fuusen

I'm alone
Ikisaki no nai watashi no te wo
Sotto tsunaidekureta

Starless night kako no kage furikaeranai
Kanjitai anata no nukumori
Tears are falling down mayotte mo hanashi wa shinai
Tsunaida anata no te wo

Sometimes we fall apart
Okubyou ni natte shimau kedo
Kitto hito wa soko kara nanika wo mitsukedaseru hazu

Take my hand
Naku fukanzen na futari dakara
Zutto te wo tsunaideiru

Starless night kuchibiru ga yonehaitemo
Shinjitai anata no nukumori
Endless love mujun sae aiseteru no wa
You are my shining star

Starless night kako no kage furikaeranai
Kanjitai anata no nukumori
Tears falling down mayotte mo hanashi wa shinai
Tsunaida anata wo

Starless night kuchibiru ga yonehaitemo
Shinjitai anata no nukumori
Endless love mujun sae aiseteru no wa
You are my shining star
You are my shining star
References
See also