The Sandman Will Keep You Awake - The Loop
Play Sound
"Rose" is a single by Anna Tsuchiya released under the name, "Anna Tsuchiya inspi' Nana (Black Stones)." It was released by Mad Prey Records on June 28, 2006. The single was available in both CD and DVD, which includes the music video for "Rose."
The song was the opening used for the Nana anime, and is the first to portray the Black Stones' sound in the anime. "Lovin' You" and "Ah Ah" are included on the CD.
Background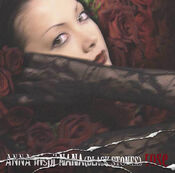 "Rose" was originally on Tsuchiya's Strip Me? album and later added to the Nana Best soundtrack and Anna Tsuchiya Inspi' Nana (Black Stones). The song greatly boosted Tsuchiya's career and became her first top ten hit.
The track, "Ah Ah" was originally on her EP, Taste My Beat.
Track listing
No.
Title
Lyrics
Music
Arrangers
Length
1.
"Rose"  
Anna Tsuchiya
Ayumi Miyazaki
Ayumi Miyazaki
 
2.
"Lovin' You"  
Tsuchiya
Joey Carbone, Anthony Mazza,
Ron Harris
Gary Newby
 
3.
"Ah Ah"  
Tsuchiya
Paul Rein, Winston Sela, Daniel Eklund
 
 
DVD extras
Videos
Lyrics
When I was darkness at that time
Furueteru kuchibiru
Heya no katasumi de I cry
Mogakeba mogaku hodo
tsukisasaru kono kizu
Yaburareta yakusoku hurt me

Nobody can save me
Kamisama hitotsu dake
Tomete saku you na my love

I need your love. I'm a broken rose
Maichiru kanashimi your song
Ibasho nai kodoku na my life
I need your love. I'm a broken rose
Oh baby, help me from frozen pain
With your smile, your eyes
And sing me, just for me

I wanna need your love
I'm a broken rose
I wanna need your love

When you are with me at that time
Anata no kage wo oikakete
Hadashi de kake nukete stop me
Tozaseba tozasu hodo
motsureteku kono ai
Odayaka ni yasashiku kiss me

Nobody can save me
Kogoeru bara no you ni
Yasashiku nemuritai my tears

I need your love. I'm a broken rose.
Kare ochiru kanashimi my soul
Kuzureteku kodoku na little girl
I need your love. I'm a broken rose
Oh baby, help me from frozen pain
With your smile, your eyes
And sing me, just for me

I wanna need your love
I'm a broken rose
I wanna need your love

I need your love. I'm a broken rose
Maichiru kanashimi your song
Ibasho nai kodoku na my life
I need your love. I'm a broken rose
Oh baby, help me from frozen pain
With your smile, your eyes
And sing me, just for me

I wanna need your love
I'm a broken rose
I wanna need your love
References
See also