Nana Renai Shourigaku (NANA恋愛勝利学 Nana Ren'ai Shōri-gaku, lit. "Nana: Study for the Victory in Love") is a book by Japanese psychiatrist, Rika Kayama, who presents a psychological view of Nana through the book. It was published on May 26, 2005 and reprinted in 2006.
Content
The author comments on Nana Komatsu's and Nana Osaki's love troubles, while also trying to give advice to the readers. Pictures of the manga are often presented for examples and resources.
The book features seven chapters, the first six focusing on the psychology of Nana and Hachi, and the seventh, a conversation between Kayama and Ai Yazawa.[1]
Author
Main article: Rika Kayama
Rika Kayama (香山 リカ Kayama Rika, born July 1, 1960 in Sapporo, Japan) is a Japanese psychiatrist. She graduated from Tokyo Medical University in 1986. Rika Kayama has written and co-authored several books since 1991. Her latest being released on July 31, 2014.
Bunko edition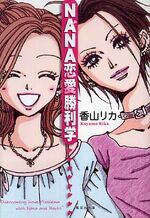 Nana Renai Shourigaku
was released in
bunkobon
format on November 17, 2006. The cover was changed to a close-up on Nana Osaki and Nana Komatsu with a plain-white background and different font for the title.
References
See also