Jurassic World: Dominion Dominates Fandom Wikis - The Loop
Play Sound
Nana Best is an album featuring music from the Nana anime. Each song is either recorded by Olivia Lufkin or Anna Tsuchiya.
It includes all the opening and ending music, and "zero", "Shadow of Love", and "Recorded Butterflies". New songs are Lufkin's, "Nothing's Gonna Take My Love" and Tsuchiya's cover of the Sex Pistols', "Anarchy in the UK".
Background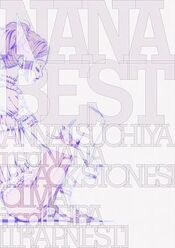 Some of the songs were previously released on either Anna Tsuchiya Inspi' Nana (Black Stones) or Olivia Inspi' Reira (Trapnest).
Nana Best was released in two versions CD and CD&DVD. The DVD version includes all the openings and endings creditless, and four additional animation videos. A mouse pad and a booklet with a message from Ai Yazawa was also included. The album was released one week before the last episode of the anime aired.
Olivia Lufkin's brother, Jeffrey contributed to "Nothing's Gonna Take My Love". He and Olivia often collaborate together.
Tracklisting
| No. | Title | Lyrics | Music | Arrangers | Length |
| --- | --- | --- | --- | --- | --- |
| 1. | "Rose"   | ANNA | Ayumi Miyazaki | Ayumi Miyazaki | 3:49 |
| 2. | "A Little Pain"   | Olivia, Masumi Kawamura | Hiroo Yamaguchi | Tomoji Sogawa | 5:17 |
| 3. | "zero"   | ANNA | Katsumi Ohnishi | Katsumi Ohnishi | 3:50 |
| 4. | "Wish"   | Olivia, Chazne | Olivia, rui | rui, kansei, Tomoji Sogawa | 3:45 |
| 5. | "Starless Night"   | Olivia, Space Critter | Hideyuki Obata | Tomoji Sogawa | 4:16 |
| 6. | "Kuroi Namida"   | Megumi Takeuchi | Hiroki Nagase | Gary Newby | 5:10 |
| 7. | "Lucy"   | ANNA, Rie Eto | COZZi | COZZi | 3:29 |
| 8. | "Stand by Me"   | Katsumi Ohnishi | Katsumi Ohnishi |   | 4:48 |
| 9. | "Shadow of Love"   | Chazne, Olivia | rui, Olivia | kansei, rui | 4:25 |
| 10. | "Winter Sleep"   | Eclipse | rui, Olivia | kansei, rui | 6:00 |
| 11. | "Anarchy in the UK"   | Paul Thomas Cook, Stephen Philip Jones, Glen Matlock, Johnny Rotten | Paul Thomas Cook, Stephen Philip Jones, Johnny Rotten |   | 3:23 |
| 12. | "Lucy (Studio Live version)"   | ANNA, Rie Eto | COZZi | COZZi | 3:32 |
| 13. | "Nothing's Gonna Take My Love"   | Olivia | Olivia, Jeffrey Lufkin | kansei, rui | 4:33 |
| 14. | "Recorded Butterflies (Live version)"   | Olivia, Masumi Kawamura | Olivia, rui |   | 4:57 |
DVD extras
"Wish", "Lucy", "Kuroi Namida", "A Little Pain", "Starless Night", "Rose", "Stand by Me", and "Winter Sleep" creditless opening and ending clips
"Kuroi Namida", "Lucy", "A Little Pain" (studio live version), and "Wish" animation clips
Videos
See also