Nana 2 (ナナ2) is the sequel of the 2005 film based on Ai Yazawa's manga, Nana. The film was directed by Kentaro Otani and starred Mika Nakashima as Nana Osaki and Yui Ichikawa as Nana Komatsu.
Many of the actors from the previous film returned for the sequel. There were a few notable exceptions, such as Yui Ichikawa replacing Aoi Miyazaki, Kanata Hongo replacing Kenichi Matsuyama, and Nobuo Kyo replacing Ryuhei Matsuda.
Plot
Cast and characters
Production and reception
Plans for Nana 2 began a few weeks after the release of the first film. The director, Kentaro Otani returned for the sequel. In August 2006, Aoi Miyazaki decided to leave the film and was replaced by Yui Ichikawa. Reportedly, Miyazaki was afraid of ruining her image by playing Nana Komatsu, who has sex with Nobu and Takumi in the film. Two other casting changes were made, Nobuo Kyo replaced Ryuhei Matsuda and Kanata Hongo replaced Kenichi Matsuyama. Both changes were made because of scheduling conflicts with the actors previous commitments.
Shooting began in September and ended on November 2, 2006. On October 25, they shot the surprise Blast concert in Shinjuku from chapter 38 of the manga. The movie premiered on December 9 in Yurakucho with many of the cast members attending. It was promoted with an exhibition, "Lotus and Strawberry" in Shibuya. Several other much smaller events were also held.
The film did not do as well as the first film, only debuting as #4 on the charts. It went down to #7 on it's second week, eventually ending at #6.[1]
DVD release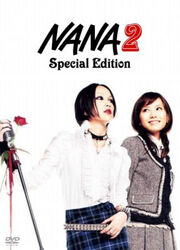 Nana 2 was released on standard and special edition on June 22, 2007. The standard edition includes only the film and debuted at #8 on the best-selling DVD charts, eventually reaching #4.
The special edition included two discs with over one-hundred minutes of bonus features. The first has the original film with option of audio commentary by director, Kentaro Otani. Trailers, TV spots, live scene of "Hitoiro", and the making of the "Truth" and "Eyes for the Moon" videos. Another extra titled, "The Other Side of Nana 2" included footage of the making of the film, and the premiere of the movie. It debuted at #3 on the charts of best-selling DVDs.[2]
Viz Pictures released the film for North America on March 31, 2009.[3]
Soundtrack
Main article: Nana 2: Original Soundtrack
The Nana 2 soundtrack was released by MUSIC RAY'N on September 28, 2006. Tadashi Ueda composed all the tracks on the soundtrack, primarily background music. He had also previously worked on Nana Movie: Original Soundtrack. Two singles, "Hitoiro" by Mika Nakashima and "Truth" by Yuna Ito were featured on the soundtrack.
Merchandise
Nana 2 Kick Off! Ready! Steady! Nana! is a DVD featuring interviews with cast members. A novel adaptation of the film was also published. Various other merchandise including t-shirts, phone straps, and new Hello Kitty products.[2]
Trailer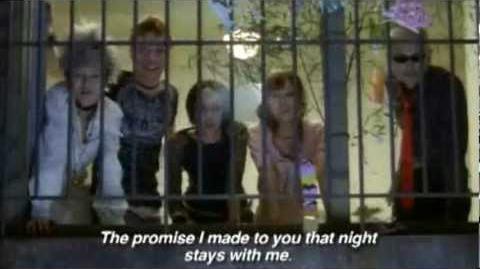 References