This article is about the live-action film. For other uses, see Nana.
Nana (ナナ, Nana) is a Japanese film based on Ai Yazawa's manga series, Nana. It was directed by Kentaro Otani, who co-wrote the script with Taeko Asano. The film premiered on September 3, 2005[1] and remained in the Japanese box office's top ten for eight weeks.[2] Mika Nakashima and Aoi Miyazaki starred as the titular characters, Nana Osaki and Nana Komatsu.[3]
Nakashima performed the film's theme song, "Glamorous Sky",[4] while Yuna Ito, who portrayed Reira Serizawa, recorded "Endless Story".[5] The soundtrack to the film was published on September 28, 2005.[6] A sequel, titled Nana 2, was released in 2006.[7]
Nana Komatsu (Miyazaki) and Nana Osaki (Nakashima) become roommates, after meeting on a train to Tokyo.
Plot
| | |
| --- | --- |
| | This section of this article is empty and needs to be expanded. You can help Nana Wiki by contributing. |
Cast and characters
Staff
Director: Kentaro Otani
Screenplay: Taeko Asano, Kentaro Otani
Music: Tadashi Ueda
Cinematography: Kazuhiro Suzuki
Editing: Shuichi Kakesu
Production and promotion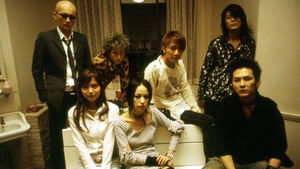 The project was first announced in Cookie during the winter of 2004.[8] Nana was the second film based on one of Ai Yazawa's series, after Kagen no Tsuki in 2004.[9] Hiroki Narimiya, who played Nobuo Terashima in Nana, also appeared in Kagen no Tsuki.[10]
On July 7, 2005, a press conference was held for the film. The director Kentaro Otani, Aoi Miyazaki (Nana Komatsu), Mika Nakashima (Nana Osaki), Tomomi Maruyama (Yasushi Takagi), Narimiya (Nobu), Yuta Hiraoka (Shoji Endo), Ryuhei Matsuda (Ren Honjo), Tetsuji Tamayama (Takumi Ichinose), and Kenichi Matsuyama (Shinichi Okazaki) all attended the conference.[8]
An exhibition, titled "Nana Ten" was held from July 30 to August 14, 2005 to promote the film. The event began in Harajuku and Osaka, before moving to the rest of Japan.[11] The restaurant News Deli offered a special menu dedicated to Nana from August 25 to September 7, 2005.[8]
DVD release
On March 3, 2006, Nana was released in "Special" and "Standard Edition".[12][13] The special edition includes a photo book, audio commentary, theatrical trailers, television spots, a making-of documentary, and unreleased live band performances.[14] Both DVDs entered Oricon's top-ten during their first week.[15] Viz Media released the film under their Viz Pictures label on April 8, 2008.[16]
Nana FM707, a DVD featuring behind-the-scenes information, was released on August 26, 2005. It features commentary by Nakashima and Miyazaki and an interview with Kentaro Otani. A similar promotional product, Nana All About 707 was also published in 2005.[15]
Cover
Release date
Contents
Japan
Standard Edition

Special Edition

March 3, 2006

DVD details

2-disc set (Special), 1-disc set (Standard)
16:9 aspect ratio
Language: Japanese
Subtitles: Japanese
Running time: 114 minutes
Dolby Digital 5.1

United States
April 8, 2008

DVD details[17]

1-disc set
Language: Japanese
Subtitles: English
Running time: 114 minutes
Soundtrack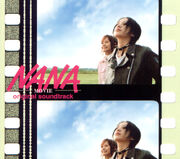 Main article: Nana: Movie – Original Soundtrack
The soundtrack to Nana was released on September 28, 2005 by MUSIC RAY'N. Short versions of the film's theme songs, "Glamorous Sky" and "Endless Story" were featured on the soundtrack.[6][18] The lyrics of Mika Nakashima's "Glamorous Sky" were written by Yazawa. It was released as a single on August 31, 2005. "Endless Story" was Yuna Ito's debut single and was released on September 7.[11]
Reception
Nana grossed over four billion yen.[19][20] It reached the second position at the Japanese box office[21] and remained in the top ten for eight weeks.[2]
References
External links