"Pack those bags...guitar and cigarettes, that's all I need."
Nana – Nana Osaki is the second prologue chapter of Nana. It details the life of Nana Osaki, before meeting Nana Komatsu.
Plot
"I have no idea where I was born. I've never seen my father's face and I've long forgotten the face of my mother. I came to this coastal village when I was four years old. I was raised by my grandmother, who ran a small diner and constantly dumped her cold sarcasm on me. These days, while working tirelessly I polish the shards of my dreams."
—Nana Osaki recounts her prior history
The Black Stones are performing at a club, afterwards their fan greet them outside with Christmas presents. One of the fans, Misato Uehara gives Nana Osaki some Vivienne Westwood clothing, and Nana thanks her with a kiss on the lips. The band goes out for drinks, and Nobu gets completely drunk. Yasu before taking Nobu home, tells Ren to explain to Nana about the 'thing'.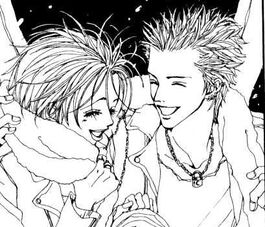 Ren and Nana find a scarf amongst their many gifts and head towards home. They take a bath together, and reminisce about the time they first. They also discuss the prostitution allegations against Nana, which resulted in her expulsion despite being innocent.
"So of course, I bought a bright red frilly dress. I remember wearing it to the show that night I was so psyched. 'Cause Nobu said he'd introduce me to some super cool dude"
—Nana recounts the story of how they met
They met at a Christmas concert two years prior, Nana was wearing a red dress.
Character appearances
Trivia
"Wonderwall" is seen on a sign at the beginning. The band is named after the song by Oasis.
Nana jokes calling Ren "Rain Man" in the Viz Media edition, when he remembers what she wore the first night they met.
In the Viz version, Nobu tells Nana "You're not Patsy Cline or anything..." Patsy Cline was a famous country singer, who crossed-over to pop in the United States.
A poster of the movie,

Sid and Nancy

can be seen in Ren's apartment. Later, Nana can be seen puttting on a

Sid Vicious

padlock on Ren.
The CD Nobu lent Nana is a

Sex Pistols

CD, most likely Nevermind the Bollocks, Here's the Sex Pistols.
Ren says all he needs is his guitar and cigarettes, "like Adam from Evil Eye." Adam is a previous Yazawa character from Kagen no Tsuki.
See also