Jurassic World: Dominion Dominates Fandom Wikis - The Loop
Play Sound
This article is about the manga series. For other uses, see Nana.
Nana (ナナ, Nana), often stylized as NANA, is a Japanese manga written and illustrated by Ai Yazawa.[1] The manga was published in Shueisha's manga magazine Cookie.[2] Viz Media licensed the series for release in North America and published it in their Shojo Beat magazine.[3] Nana was put on hiatus in August 2009, when Yazawa suddenly fell ill.[4]
In 2005, Nana was adapted into a live-action film starring Mika Nakashima and Aoi Miyazaki.[5] Nakashima returned to star in the 2006 sequel, while Yui Ichikawa replaced Miyazaki.[6] That same year, an anime based on the manga was produced by Madhouse Studios.[7][8] In January 2021, it was announced that series would be adapted into a Chinese drama, also titled Nana.[9]
The story follows Nana Komatsu and Nana Osaki, who meet coincidentally on a train to Tokyo. They become roommates and develop a close friendship.
Premise
Nana Komatsu and Nana Osaki are complete opposites of eachother, however a chance encounter on a train brings the two together. They become close friends and share an apartment together.
Nana Osaki came to Tokyo to headline a punk band, Blast. She is joined by old bandmates, Nobuo Terashima, Yasushi Takagi, and new member Shinichi Okazaki. The band gains popularity at live gigs and eventually gets signed by Gaia Records. However, they became known nation-wide, after Nana's relationship with Trapnest guitarist, Ren Honjo was revealed.
Trapnest consists of Reira Serizawa, Ren Honjo, Takumi Ichinose, and Naoki Fujieda. The band has a huge following by the time Nana O moves to Tokyo. The lives of Nana Osaki, Nana Komatsu, Blast, and Trapnest becomes intertwined as the series goes on. Many glimpses of the future are also shown.
Manga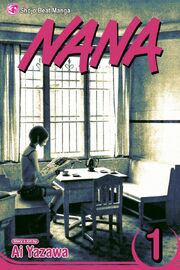 Ai Yazawa's Nana debuted in the manga magazine Cookie in July 2000. In 2007, the manga was put on hiatus, when Yazawa underwent an operation.[10] The series was put on hiatus again in June 2009, when Yazawa suddenly became ill.[11] She returned from the hospital in April 2010, but no set date for Nana's return was announced.[12] Yazawa published a new "Junko's Place" chapter in Cookie's March 2013 issue.[13]
Shueisha collected the series into twenty-one volumes.[14] Viz Media licensed Nana for release in North America. It was also serialized in Viz's magazine, Shojo Beat,[15]
Adaptations
Live-action films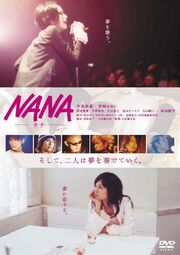 The first live-action film was released on September 3, 2005. Mika Nakashima, and Aoi Miyazaki star as Nana Osaki, and Nana Komatsu. The other cast members include, Hiroki Narimiya as Nobu Terashima, Kenichi Matsuyama as Shin Okazaki, and Ryuhei Matsuda as Ren Honjo.
The film was huge success and was followed by a second live-action film released on December 9, 2006. Production of the film started in September of 2006, and filming took one and a half months to finish. Three actors were recasted, which include, Yui Ichikawa as Nana Komatsu, Nobuo Kyo as Ren Honjo, and Kanata Hongo as Shinichi Okazaki.
Anime
Nana was adapted into an anime in 2006, directed by Morio Asaka and animated by Madhouse Studios. The series aired for a total of forty-seven episodes from April 5, 2006 to March 27, 2007. Anna Tsuchiya as Nana Osaki and Olivia Lufkin as Reira Serizawa provide songs for the openings and endings of the anime.
Chinese drama
Related media
Video games
Albums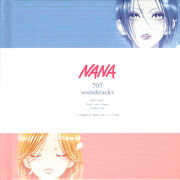 Nana has numerous original soundtracks with music from the live-action films and anime series.
Much of the music for the anime was performed by Anna Tsuchiya and Olivia Lufkin. Lufkin released two singles and Olivia Inspi' Reira (Trapnest), while Tsuchiya released three singles and Anna Tsuchiya Inspi' Nana (Black Stones) based on the Nana anime. Three soundtracks were also released featuring music from the anime.
Mika Nakashima as Nana Osaki, performed "Glamorous Sky" and "Hitoiro" for the live-action films. She also released The End, featuring the previous singles and other music inspired by Nana. Yuna Ito performed "Endless Story" and "Truth" as Reira Serizawa. Soundtracks for both films were released.
Several tribute albums inspired by Nana have been produced. Including Punk Night from Nana released on September 26, 2003 and, Nana's Song Is My Song on November 6, 2003. The only official tribute album, Love for Nana was released on March 16, 2005.
Books
Reception
By 2006, Nana had sold 34 million copies.[16] The number had reached 43 million by 2008.[17] The series' nineteenth and twentieth volumes both sold over one million copies in 2008, making Nana the best-selling shojo manga that year.[18][19] Nana's twenty-first volume sold an estimated 1,505,575 copies in 2009.[20] The twenty-first volume also made The New York Times best-selling manga list in July 2010.[21] As of 2019, Nana has sold a cumulative fifty million copies in Japan. It is third best-selling shojo manga behind Boys Over Flowers and Glass Mask.[22]
In 2003, Nana and Taeko Watanabe's Kaze Hikaru won the Shogakukan Manga Award in the shojo category.[23] Oricon ranked Nana number one on their 2005 list, "Top 10 Shojo Manga", along with Yazawa's Tenshi Nanka Ja Nai at number five.[24] The manga was nominated in 2006 and 2008 for the Tezuka Osamu Cultural Prize.[25][26] Nana's eighteenth volume was nominated for France's Angoulême Comics Awards in 2008.[27]
References
See also
External links