We're Getting Mutants in the MCU - The Loop
Play Sound
"Lucy" is Anna Tsuchiya's fifth single and her third released under "Anna Tsuchiya inspi' Nana (Black Stones)." It was published on February 7, 2007 by Mad Prey Records. The single debuted at #12 on the Oricon Singles Daily Chart.
It was used for the third opening of the Nana anime. Tsuchiya wrote the lyrics for "Lucy" with Rie Eto. The tracks, "Better Day" and "Dance with Me" are included on the single.
Background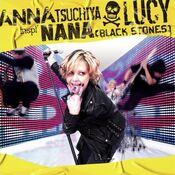 On both Anna Tsuchiya Inspi' Nana (Black Stones), Nudy Show! and Nana Best, the song "Lucy" is featured.
The music video and a ninety-second animation clip for "Lucy" are included on the DVD version.
Track listing
| No. | Title | Lyrics | Music | Arrangers | Length |
| --- | --- | --- | --- | --- | --- |
| 1. | "Lucy"   | Anna Tsuchiya, Rie Eto | Cozzi | Cozzi | 3:28 |
| 2. | "Better Day"   | Tsuchiya | Joey Carbone, Anthony Mazza |   | 3:22 |
| 3. | "Dance with Me"   | Tsuchiya | Niclas Molinder, Skin Ankarberg, Joacim Persson, Lisa Greene |   | 3:37 |
DVD extras
"Lucy" music video
"Lucy" animation video
Music video
Lyrics
Baby I'm standing alone
Wasurenu rainy day
Anata no kage wo otte
And It's over suna no you ni
I sigh every night
I scream like a child & cried
Shizuka ni tadayou sorrow
Please Please god tsumi wo yurushite
I don't need to hide no more
Aoku hikaru hou e
Nagareteku going on

You've got the chance now
You've got the power
Kidzuite so true yourself
I show you my life now
I show you my love now
I show you everything yeah yeah
Baby don't be afraid

Baby I'm lying alone
Mezamernu drowning days
Owari no nai my misery
Now I know that furimukanai
Life goes round & round
Just silence surrounding me
Moetsukite like a phoenix
And I'm falling ubawareteiku

I don't need to lie any more
Yureru nami no you ni
Ikireba ii going on

You'd better change now
You'd better catch now
Kawaranai so be yourself
I'll show you my strength now
I'll show you my love now
I'll show you everything yeah yeah
Baby don't be afraid

You've got the chance now
You've got the power
Kidzuite so true yourself
I'll show you my strength now
I'll show you my love now
I'll show you everything yeah yeah

You'd better change now
You'd better catch now
Kawaranai so be yourself
I'll show you my strength now
I'll show you my love now
I'll show you everything yeah yeah
Baby don't be afraid
References
See also