We're Getting Mutants in the MCU - The Loop
Play Sound
"A Little Pain" is an Olivia Lufkin single under the Cutting Edge label. The single was released on June 28, 2006 in both CD and DVD. It was used as the first ending for the Nana anime. The song reached #7 on the Japan Oricon charts.
This song was specifically recorded to portray Trapnest's sound as if they were a real band. Two more tracks by Lufkin, "Tears & Rainbows" and "Let Go" are included. On the DVD version, the music video for "A Little Pain" was added.
Background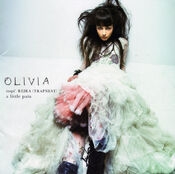 The track, "A Little Pain" has been added onto several soundtracks related to Nana, including Olivia Inspi' Reira (Trapnest) and Nana Best.
Olivia also put the single on her mini-album, The Cloudy Dreamer. The album debuted at #15 on the Oricon Charts, making it her most successful album.
Track listing
| No. | Title | Lyrics | Music | Arrangers | Length |
| --- | --- | --- | --- | --- | --- |
| 1. | "A Little Pain"   | Olivia, Masumi Kawamura | Hiroo Yamaguchi | Tomozi Sogawa |   |
| 2. | "Tears & Rainbows"   | Olivia, Space Critter | Olivia, Jeffrey Lufkin | Jeffrey Lufkin |   |
| 3. | "Let Go"   | Olivia, Space Critter | Olivia, Lufkin | Lufkin |   |
DVD extras
"A Little Pain" music video
Videos
Lyrics
Travel to the moon
Kimi wa nemuri, yume wo toku
Dare mo inai, hoshi no hikari
Ayatsuri nagara

Tsuyoku naru tame,
Wasureta egao
Kitto futari nara, torimodosu

Kidzuite
I'm here waiting for you
Ima to wa chigau mirai ga atte mo
I'm here waiting for you
Sakebi tsudzukete
Kitto kokoro wa,
Tsunagu ito wo tagutteru
Ano koro no watashi,
Me wo samasu you ni
No need to cry

Travel in silence,
Te wo nobaseba, fureru no ni
Kimi wa tooi, sore wa,
Omoide no naka no koto

Koe ga kikoeru,
Me wo tojireba
Chiisa na itami sae,
Itoshikute

Mitsumete
I'm here waiting for you
Kaze ni fukare,
Hitori mayotte mo
I'm here waiting for you
Sora wo miagete
Zutto kokoro wa,
Te wo hirogete mamotteru
Ano koro no kimi ga,
Furikaeru made
No need to cry

(Feel something Feel nothing
Listen closely Listen closely)
Wide open ears
Disarm the dream tickler
In the constant moment
(You will find me Where it's quiet
Listen closely Listen closely)
Let the blood flow
Through all the spaces
Of the universe

Kizuite
I'm here waiting for you
Ima to wa chigau mirai ga atte mo
I'm here waiting for you
Sakebi tsudzukete
Kitto kokoro wa,
Tsunagu ito wo tagutteru
Ano koro no watashi,
Me wo samasu you ni
No need to cry
References
See also